Background
In recent years, children who have difficulties in socializing, communicating, and often the time have clinginess, have come under the spotlight as children with special support. These children have long been neglected because there symptoms were not always overt and often the time, they would slip through preschool-aged developmental checkups. Moreover, parents are often blamed for not disciplining their child properly. These children often meet the requirements for recognized disorders, such as Pervasive Developmental Disorder, Attention Deficit Hyperactive Disorder, and Learning Disorder. It is important to note that these traits are not the result of how they have been raised, but result from developmental problems and impaired brain functioning. Therefore, it is crucial for professionals to clearly understand these traits and be able to manage them.
Goal of this Project
To enhance students' communication skills and educate them regarding methods for facilitating children's mental and social development.
To achieve the requirement as professionals to ascertain the nature of the problems, in order to intervene in family interactions, primarily parent-child interactions.
Four Main Parts of the Program
1. Education for undergraduate students
1st year grade :

Basic programs on communication skills

2nd year grade :

A day nursery practicum

3rd year grade :

Participation to open community symposium

3rd and 4th year grade:

Discussions and interactions with family in the classroom for hands-on learning experience and e-learning)

Through these experiences, students gain insight into their own communication behavior patterns and develop useful skills that can be immediately applied to interpersonal relationships in the workplace.
2. Social Contribution & Community Connection
By receiving feedback and evaluations from NPOs and patient societies, we are able to directly address the needs of patients and families.
Communication between future professionals and patients effectively facilitates mutual understanding.
3. Faculty development
4. Establish e-learning system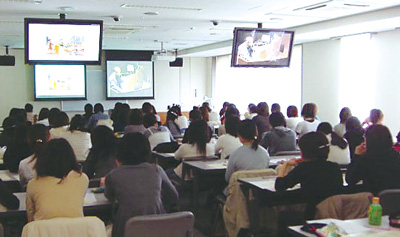 The period of the project
From October, 2006 to March, 2009
About Gendai GP
Link to http://www.mext.go.jp/a_menu/koutou/kaikaku/gp/001.htm
established by Ministry of Education, Culture, Sports, Science and Technology
How to Contact us
Course of Health Science, Osaka University Graduate School of Medicine
Gendai GP project working group
TEL: 06-6879-5111
Address: Yamadaoka1-7 Suita city, Osaka, Japan
E-mail: oyako@sahs.med.osaka-u.ac.jp