Area of Medical Laboratory Science and Technology/Department of Clinical Laboratory and Biomedical Sciences


Clinical Neurophysiology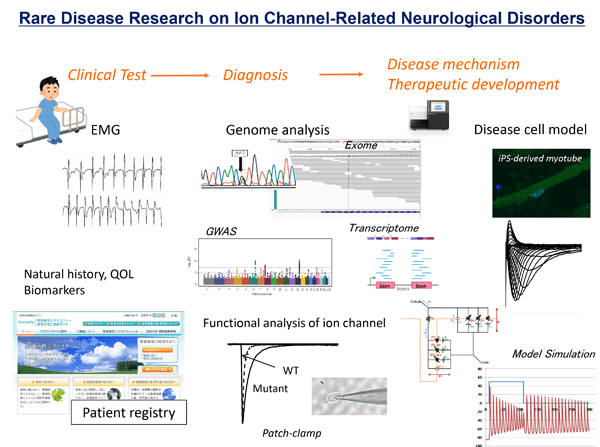 (Biorender is used to create some of the above figures)
Rare Disease Research on Ion Channel-Related Neurological Disorders
We aim to elucidate the pathophysiology and therapeutics of ion channel-associated brain and neuromuscular diseases by studying the genome, transcriptome, and cell models using bioinformatics and electrophysiology. While operating patient registries, which serve as a foundation for therapeutic development, we research the natural history, quality of life (QOL) and biomarkers of the patients. We value research pertaining to rare diseases, beginning with a single patient, and aim to elucidate universal physiological phenomena.

Training of Clinical Genetic Counselors
Training for genetic counseling was included in the Master's program in 2020. We train certified clinical genetic counselors who are familiar with the psychological aspects of clients and cutting-edge genome analysis technology.
Website
Laboratory Members
Professor
Masanori TAKAHASHI
mtakahas★sahs.med.osaka-u.ac.jp
Associate Professor
Tomoya KUBOTA
tomoya-k★sahs.med.osaka-u.ac.jp
Please convert ★ to @ when contacting us by e-mail.