Our laboratory staff, graduate students, and undergraduate students promote research with the motto "practice of health promotion science that leads to extension of healthy life expectancy." We believe that research should contribute to the happiness of people and society; therefore, the staff will instruct students to conduct research with this mindset.
The main research contents are as shown in the figure below (Fig. 1 ):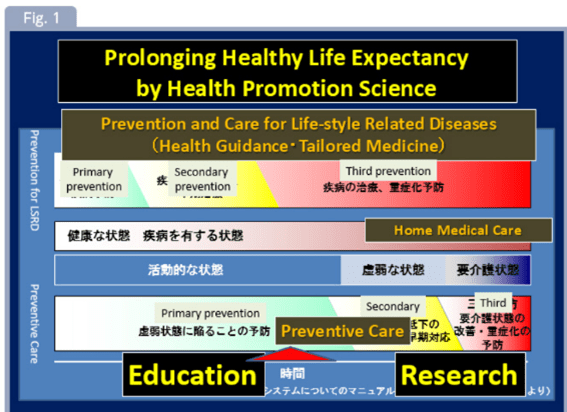 The specific research topics are discussed below:
1. Prevention and treatment of lifestyle-related diseases
Good management of lifestyle-related diseases extends healthy life expectancy. In our laboratory, we focus on hypertension, which is diagnosed in a large number of patients, establish guidance methods for lifestyle-related improvement by nurses and public health nurses, create proposals for more efficient methods, and consider the genetic predisposition of patients. We intend to establish appropriate tailor-made treatment for each individual.
2. Home-based medical care
In the future, the aging rate will rise dramatically, with a shift of medical care from hospitals to homes. However, scientific evidence to provide more systematic, efficient, and satisfying home care for patients and caregivers is lacking. Therefore, we are conducting the Osaka Home Care Registry (OHCARE) research to establish comprehensive home medical care (Fig. 2). Various issues, such as disease management, nutrition, physical function, cognitive function, and home care, are investigated. We collect information and examine the related factors by quantitative analysis, aiming to contribute to evidence for problem-solving in home medical care .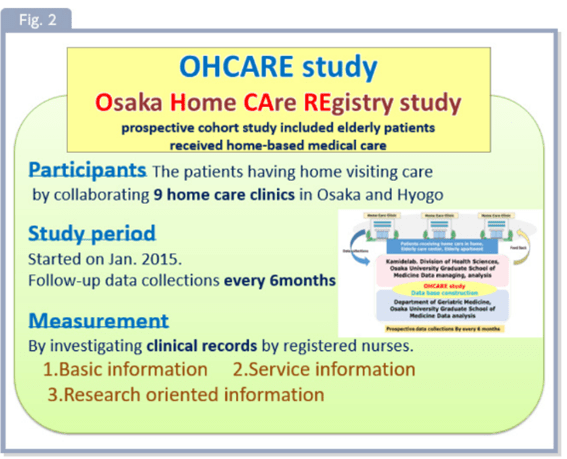 3. Care prevention-related research
Along with the aging rate, the proportion of older people who need long-term care is steadily increasing. However, since the cost of long-term care insurance is limited , a society with a greater number of healthy older people leading independent lives without receiving long-term care is desirable. Therefore, a long-term care prevention system must be promptly established. In our laboratory, we attempt to clarify the factors influencing healthy longevity from multiple perspectives, such as medicine, dentistry, and psychology, through longitudinal epidemiological studies on older people (healthy longevity: SONIC study), as shown in Fig. 3. We believe that healthcare including the longevity factors clarified here can help in establishing long-term care prevention methods .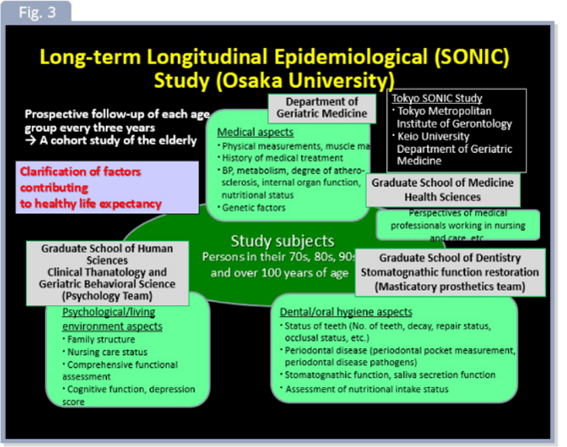 Please visit the official website for further details.